ANNUAL EXPOSITION

The premier annual event continues to be the largest meeting on the West Coast representing the continuum of care for housing, care and services for older adults. Your participation at this meeting offers unparalleled opportunities to be present with current and emerging leaders in long-term care and to display your products and services to the aging services industry. This is your opportunity to make valuable contacts and develop relationships on the show floor with decision makers. Turn that network into purchase power that translates into sales.
Whether your goal is to build a new client base or reconnect with existing clients, LAC Annual Conference & Expo is the place to exhibit! Last year, our exhibit hall sold out months before the conference! All of our educational sessions were scheduled to not compete with exhibit hours, which allows dedicated hours for attendees to visit with exhibitors.

DATES AND LOCATION
May 18-19, 2020 (Exhibits open Monday & Tuesday)
JW Marriott Desert Springs Resort & Spa
74-855 Country Club Drive
Palm Desert, CA 92260

WHY EXHIBIT AT THE ANNUAL CONFERENCE?
Discover new clients and untapped business opportunities
Network with hundreds of senior living and housing professionals
Brand awareness among attendees and other aging services partners
Successfully increase your Return on Investment (ROI). Network with returning exhibitors and leave with new customers and fresh leads.
Support the aging population – be a Champion for Aging Services in California
SCHEDULE
MONDAY, MAY 18
8:00 am - 4:00 pm Exhibitor Move-in
5:30 pm - 7:30 pm Exhibit Hall Grand Opening Reception

TUESDAY, MAY 19
11:45 am - 1:45 pm Exhibit Hall Luncheon
2:00 pm - 5:30 pm Exhibitor Move-out*

*Exhibitor may begin moving out on Tuesday, May 19, 2020 after 2:00 pm. All exhibit materials must be cleared out by 5:30 pm on Tuesday, May 19, 2020.
All hours are tentative and subject to change

WHO ATTENDS?
Meet face-to-face with leaders in the aging services industry who are moving their organizations forward. Discover how you can help our attendees stay on pace with the ever changing senior living landscape.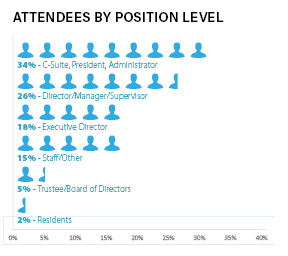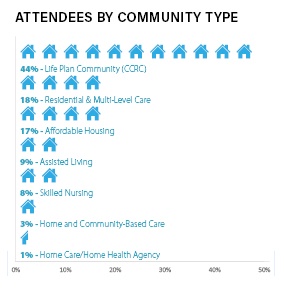 EXHIBITOR BENEFITS
In addition to a booth in the exhibit hall, Exhibitors receive the following benefits:
Four (4) exclusive, non-competing exhibit hours
One (1) complimentary Full Conference Registration (CE credit eligible)
Two (2) complimentary Trade Show Only Registrations per 8' x 10' booth
Two (2) drink tickets for Opening reception
Access to Pre- and post-meeting attendee mailing lists
Listing in Exhibitor directory (event website, mobile app, and printed guide)*
Booth raffle opportunity
Booth identification sign showing company name and booth number
Booth space with back and side rail drape
2020 'We're Exhibiting' logo to use in your marketing
Early selection of next year's booth onsite (after Premiere Partners)
Cleaning for the general exhibit hall
Optional furnished booth package (includes one skirted table and two chairs)